ETHOS / MEET JIMBO / AWARDS & ACCOLADES
We do the right thing by sourcing the highest quality organic & natural foods to nourish & inspire communities through real ingredients.
To have a piece of organic fruit in every child's recycled lunch bag.
By listening closely to our customers so we can serve them right the first time, and even better the next time.


By being socially responsible and actively involved in our community, through such means as supporting our schools, promoting environmental groups and practices, contributing to charities, and educating our customers on organic and natural foods.


By providing a positive, friendly, supportive, and caring work environment, competitive compensation, benefit and retirement programs, and by continually recognizing our employees, while motivating and encouraging them to strive for excellence.


By being an economically viable company that creates value for our ownership, employees and community, thereby ensuring our ongoing success.


By embracing Honesty, Integrity and Respect on our path to excellence…
BECAUSE IT'S THE RIGHT THING TO DO!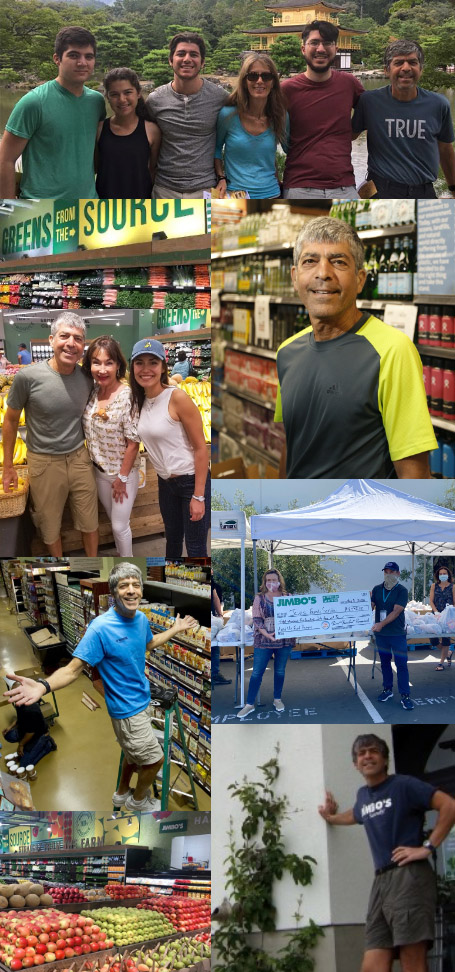 Jim "Jimbo" Someck is a man who truly practices what he preaches and he has always felt very fortunate to have a career that reflects his lifestyle and belief system. Happily married and the father of four children, Jimbo is an avid runner and a strict vegetarian. His wife, Colleen, prepares daily family meals from scratch. The same guidelines apply at home as in his stores — no white sugar, no harmful chemicals or preservatives, and organic ingredients whenever possible.
His dedication to protecting the environment for our childrens' future and a healthy lifestyle is embodied in his company's vision statement, "a piece of organic fruit in every child's lunch bag." It is also evident in the Jimbo's "It's in the Bag" Recycling Program and Kids Club Program.
A native New Yorker, Jimbo came to San Diego over 40 years ago and started in the health food business breaking down cardboard boxes. Years of hard work and personal commitment to his customers and employees have been recognized over the years through numerous awards and accolades. A stickler for detail in all aspects of his business, Jimbo still maintains an open door policy for all employees.
Jimbo opened his first store in 1984 in North Park and from the beginning, it was a success. Since then, he has opened five San Diego stores: Carmel Valley, Escondido, Carlsbad, 4S Ranch, and downtown Horton Plaza — all successful in their own right. (He has subsequently sold the North Park store and has closed the Horton Plaza store due to construction and legal issues.)
Today, with 4 stores and the enviable position of strong personal ties with local organic farmers and natural food vendors, his stores are truly the premier natural foods stores in San Diego County.
Yet, Jimbo's highest attribute is his honesty and integrity. This can be seen, not only in his children and family life, but also in how he successfully manages his relationships with his employees and suppliers.
1995 Store of the Year – Health Food Business
2005 INFRA Founding Member
2008 Eliminated Plastic Bags at the Register
2009 Clean Water Award – Surfrider Foundation, San Diego County Chapter
2009 Commitment to the Non-GMO Project Verified Organization
2012 Retailer of the Year – Whole Foods Magazine
2012 Socially Responsible Retailer of the Year – Natural Products Association
2014 Retailer of the Year Award: Best New Store – New Hope Natural Media
2015 LEED Gold Certification – First Grocery Store in San Diego to Achieve
2018 Retailer of the Year Award: Best Community Project – New Hope Natural Media
2018 San Diego Grown 365 Award
2019 Carmel Valley Store 2.0 Opens
2021 Store of the Year Award: INFRA ( Independent Natural Food Retailers Association)

2022 JOY Award: New Hope Community Purpose & Impact Award